FOUNDATION REPAIR SERVICES
Residential Home Foundation Repair
Foundation problems can be caused by a variety of factors such as soil expansion, changes in soil moisture, or poor drainage. Signs of foundation issues include leaning walls, cracked floors, and doors that don't open properly. At Abilene Foundation Experts, we're here to help homeowners fix their foundation issues and improve the value of their homes.
Commercial Foundation Repair
Residential and commercial foundation problems can have different causes. Commercial properties often experience issues due to the weight of the building and problems with gutters and downspouts that aren't typically an issue for residential homes. At Abilene Foundation Experts, we have experience working on a variety of commercial properties, including churches, warehouses, and restaurants. We work to ensure the safety of your staff and customers.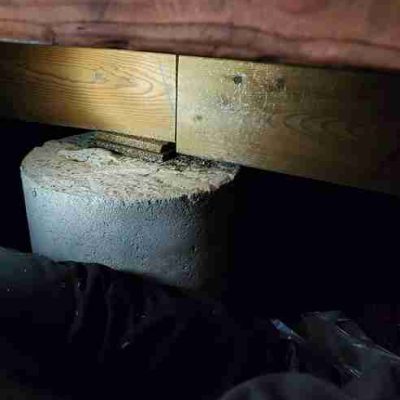 Pier and Beam Foundation Repair
When it comes to pier and beam foundation repair, there are various options available. Depending on the condition of your foundation, you may only need to replace a few piers or you may need to add dozens of new piers. Wooden piers can deteriorate over time due to moisture in the crawl space, so it may be recommended to replace them with steel piers and install a moisture management system to protect the remaining piers.
Concrete Slab Foundation Repair
Concrete slab foundations are susceptible to various environmental factors. In Abilene, heavy rainfall can lead to soil expansion, putting pressure on the foundation from the side and underneath. To fix this, our slab foundation repair includes reinforcing certain areas of the foundation to restore its level.
Foundation and House Leveling
House leveling is often the final step in foundation repair. It brings the house back to its original position after the underlying problem has been fixed, addressing issues such as uneven floors and gaps in door or window frames. At Abilene Foundation Experts, we offer professional foundation and house leveling services at an affordable cost.
Proper drainage is essential in Texas soil to prevent foundation issues. The soil in Texas is known to expand and contract with changes in moisture levels, which can cause the foundation to shift and settle. Heavy rainfall and flooding in the state can also contribute to foundation issues. To prevent this, fixing drainage around your house includes regrading the land to direct water away, installing drainage systems, fixing gutters and downspouts, and addressing any leaks or water damage promptly. This will help prevent soil expansion and contraction, and ultimately, foundation issues. Regular inspections and maintenance of the foundation can also go a long way in preventing foundation issues caused by poor drainage.
Crawl Space Encapsulation & Repair
Crawl spaces may not be top of mind, but they play an important role in maintaining the overall health of your home. When moisture and humidity are present in crawl spaces, they can weaken the structure and decrease indoor air quality. The good news is that Abilene Foundation Experts can recognize these warning signs early on and prevent additional harm from occurring.
A crawl space is much more than just a hidden place to store plumbing and electrical equipment. The stability of your home's structure and the purity of the air within are directly impacted by the condition of your crawl space. By being aware of what to look for, you can take proactive measures to reduce harm.
Professional. Trusted. Reliable.
Foundation Repair Experts Abilene
Don't be reluctant to contact the Abilene Foundation experts and trust to get the information you NEED! We'll answer all of your questions, from the average cost of foundation repair to the warning signals that your home may have foundation issues.